Hair conditioner – Shopping step by step
Beginnings are hard. Especially beginnings with hair care. When you do not know your hair needs, do not know what to avoid in cosmetics and there are hundreds of hair conditioners to choose from. What kind of conditioner should you buy to not waste money? How to choose right conditioning product? You just need to stick to those few rules.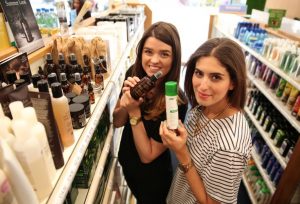 #1 Define condition of your hair
You can eliminate large number of conditioners by just stating the condition of your hair. If they are rough, matte, brittle and have split ends then you probably have high porosity hair. Best for this type of hair are conditioners for dry hair, which regenerate and repair hair. If your hair are sensitive, straight, smooth, but lack volume then you have low porosity hair. You will need conditioners, which ease stylisation. Hair between those two groups belong to medium porosity hair. For them right are universal products or chosen for given problem.
#2 Determine your hair problems
Defining problem of hair is a key matter. The rule is simple. Every problem has a solution. If you have oily hair, choose conditioner for such hair. For weak hair, pick strengthening conditioner. Damaged hair can be regenerated with repairing conditioner, etc.
#3 Exclude possible allergens
Reading cosmetic composition is mandatory. You check not only quality of the product, but also how natural it is and how many interesting ingredients does it contain. Pay particular attention to eventual substances, which can sensitise. If you are allergic to nuts, then do not choose cosmetics with argan oil or macadamia oil, etc.
#4 Choose method that suits you
You cannot force yourself, especially if you have to do something on regular basis. Hair regeneration takes time and regularity, so if method of application is tiresome then you quit treatment real soon. If you do not like oil treatment, do not buy oil. If you prefer atomiser then buy spray conditioner. There are plenty of possibilities, so do not make yourself struggle.
#5 State your budget
Last and crucial criterion is price. From selected conditioners, eliminate those, which are not fitting in your budget. It is much easier to make your decision, when you have definitive budget.