Hair conditioners are one of the basic elements in everyday hair care. They work faster than hair masks and are great way for express regeneration. Hair conditioners are available in various variants, which not only nourish, but also are dedicated for specific type of hair and offer, for instance moisture, repair, elimination of dandruff, strengthening, regulation of sebum secretion, etc. For best results you should choose hair conditioner with properties fitting your problem. Help you with that can independent ranking of hair conditioners.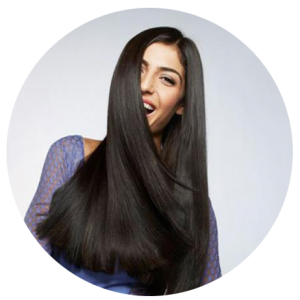 How should you choose right hair conditioner for your hair?
There is a lot of people who have a hard time choosing hair conditioner best for their hair type. We usually pick universal conditioners, the moisturising one or we just do not use conditioner at all. Skipping hair conditioning is a huge mistake, that can cost you dearly. Choice of moisturising products without giving it a single thought is also not advisable, because not every hair need additional dosage of hydration. For this reason, the most important is to get to know your hair and determine their type. With this knowledge you can easily get through the immense number of products for hair care and select only those, which can truly fit the needs and provide looked-for results, without causing any more damage.
How can you state the type of your hair?
The beginning of right hair care should start with establishing the short diagnosis. Defining the hair type can significantly help with the choice of hair conditioner, which con contribute to their conditioning. Contrary to appearances, self-made diagnosis of hair and scalp condition is not that simple. You should trust on that matter in knowledge and experience of your hairdresser. Of great importance is to state hair condition before hair wash and on dry hair as well as in combination with observations, sensations and information on how they behave in everyday conditioning. It should be done by a specialist. We tend to mistake dry hair with damaged, so in this case you can do it wrong as well.
Are dry hair always damaged?
We often take dry hair for damaged, though dryness not always means damage to the hair fibres. Of course, damaged hair are also often dry, but the other way round it usually do not happen. Naturally dry hair are, for example curly hair, and those do not have to be necessarily damaged. It all depends on the amount of sebum produced by the scalp. However, in fact the relationship between the two of them can be easily observed, because dry hair deprived of proper sebum protection are more subjected to the damage.
How to condition various hair types?
Dry, damaged and oily hair need, most of all, intense conditioning. Relevant is matching it with the hair type to avoid subjection of hair to contact with substances which can harm them. Worsening of hair condition is rather not in your plans. Equally important is conscious and regular hair nourishment, so you may want to plan your conditioning rituals – you can do it based on list of steps, or a hair care pyramid.
What is the hair care pyramid?
Pyramids are often used to chart the importance and hierarchy of given elements. Hair care is also a kind of hierarchy. Pyramid can be handwritten, printed or created in, e.g. graphic program as a wallpaper on the computer. Its base should be made of basic elements of everyday conditioning (combing), in the middle place those things which are repeated, for instance every two days (hair wash, hair conditioner), once a week (drying with blow dryer, hair mask), once a month (straightening, ends cut). At the top of the pyramid should be occasional hair treatments (colourisation). Personalisation of the pyramid depends only on your habits and needs. It is worth to have one because it helps you remember about regular hair care.
Choice of perfect hair conditioner may be problematic even if you know your hair really well, you know which ingredients to use and have precise needs. It results from the fact that currently there are plenty of cosmetic manufacturers on the market and each one of them has wide offer of products. Ranking of hair conditioners is a great way to select the most popular products. Prioritisation of products according to the opinions of consumers and comparison of them according to the key criterion can increasingly ease choice and help you come to a decision. Opinions about hair conditioners are important, because thanks to them you know that given cosmetic is not trash goods and it worked for many people. Below ranking also consists the most popular conditioning products, which you should take a closer look at and test on your hair.